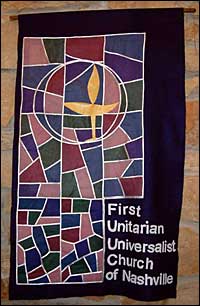 News & Other Communications
This website is based on information from our newsletter. The purpose of the newsletter and Web site is to inform members and friends of the congregation, as well as newcomers and the wider Nashville and Unitarian Universalist communities, of church business, programs, and activities. The newsletter is published on the first Wednesday of every month by the Communication Committee. If you would like to see a sample print issue, please call the church office at (615) 383-5760 or email a written request to office@firstuunashville.org.
The newsletter is also available on this Web site as a PDF (Portable Document Format) file. Most weeks it's a fairly large file, so takes a while to view, particularly if you are using a telephone modem to connect to the Internet. You can read PDF with your Web browser and Adobe Acrobat Reader. If you have Acrobat Reader, click here. If you don't, you can download it for free from Adobe's Web Site. If you don't have it and the thought of downloading it scares you to death, call one of us on the Communication Committee. We've been there too and are happy to help fellow congregants join the technoscente.