Lifespan Religious Education
Have you registered your child or youth for classes or youth group?
In order to attend, all children and youth must be registered.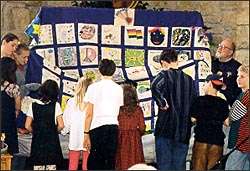 "Unitarian Universalist education aims to engage children, youth, and adults in opportunities that empower them to develop their own religious philosophies, thereby freeing them to be their own best selves and to become kind, fair, creative, and responsible persons. Our goal is to provide participants with dynamic, vivid experiences of the power of Unitarian Universalism and to help them develop life-enhancing relationships. The goals in our religious education programs are to provide opportunities to experience a depth of relationship with ourselves, with others, with the world, with the earth, and with the universe."
Rev. Patricia Hoertdoerfer, from Essex Conversations, Visions for Lifespan Religious Education
(Reprinted with the permission of the Unitarian Universalist Association and Skinner House Books)