About the First Unitarian Universalist Church of Nashville:
An Invitation to Visitors
Our Beliefs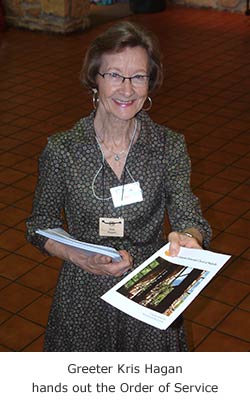 We are a community of women, men and children with diverse spiritual orientations, who come from many different backgrounds. We invite you to come visit us and learn more about us.
We seek to share a journey of spiritual growth and work together to find ways to live our faith in the world, while respecting the right to freedom of individual beliefs. Our principles and statements of covenant and mission speak our most cherished values, both as part of a larger faith and as an individual congregation. Please take time to explore this website to find out more about who we are and what we do.
Our Ministry
The ministry of the congregation, in our free tradition, is the responsibility of the entire Congregation. It's a ministry in which the lay leadership, the professional staff and the membership all have complementary responsibilities in fulfilling the covenant between the members and friends of the congregation and in carrying out the mission of the congregation.
We have two professional ministers on staff: our Senior Minister, the Rev. Gail Seavey, and our Associate Minister for Music, the Rev. Jason Shelton.
Our Location
We are located at 1808 Woodmont Blvd near the intersection of Woodmont and Hillsboro in the Green Hills area of Nashville, Tennessee. Our phone number is 615-383-5760.
The entrance to our building can be surprisingly challenging for visitors to find. It is on the rear side of the church, near the top of the hill (on the northwest side). It is most easily found from the upper parking lot. You follow the main sidewalk and enter in the glass door to the right of the bay-window at the end of the sidewalk.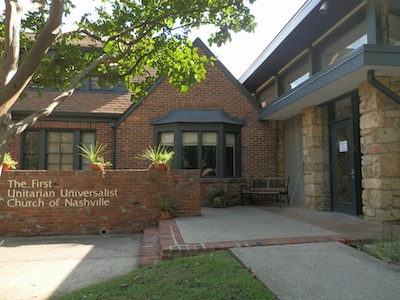 See Room Locations for a map of our buildings and grounds, including the parking lots.
Service Information
We have two Sunday services, 9:00 am and 11:00 am. Typically, the 9:00 am service is less crowded. Both services begin with morning song and are followed by coffee and conversation in the Social Area.
Religious education for youth and children] is an important part of our mission. During the 9:00 am service, children remain with their families for the initial hymns and story and then go to classes in which they are grouped by grade—preK (3s and 4s), K/1, 2/3, 4/5. 6-8. These classes are taught by committed leaders from the congregation using age-appropriate curriculum.
What Do We Wear?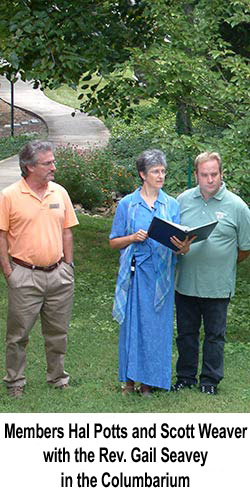 Our dress style is varied, but mostly casual, with an emphasis on comfort. Many adults default to "business casual," but some dress up and many wear jeans. In the summer shorts and t-shirts are frequent, while in the winter, sweaters and boots are common. And in the fall, you are likely to see football paraphernalia.
Children should wear comfortable clothes. We have a variety of activities for children, which on any given day might include playing with art supplies or on our playground.
Members and Friends
Our church has over 400 active members. We come from a range of religious and socioeconomic backgrounds and we value the diversity that each individual brings to our growing congregation. Our mission and covenant guide us in our goals of a safe and compassionate community, seeking our spiritual truths, affirming our interdependence, celebrating our differences, and creating a thoughtful and harmonious voice for liberal religion. The bylaws reflect our commitment to inclusivity.
Many in our congregation have been with us for a very long time, while many others are very new. We are all exploring what our community does and how it might fit our needs and lives. We learn and grow from our differences. And we all agree on our core principles of freedom, reason and tolerance.
History and Architecture
According to the history of our church, Unitarians have been in Nashville on and off since 1851. Our congregation began in 1950, and in 1963 completed the building we now use and love. The building was designed by Bruce Draper, and inspired by Frank Lloyd Wright's design for the First Unitarian Society in Madison, Wisconsin.
We belong to the Unitarian Universalist Association, which represents the interests of more than one thousand Unitarian Universalist congregations, on a continental scale.
An Involved Congregation with a Focus on Social Action
Community and lay leadership are core values of our congregation. These are nourished in many ways, including:
The largest committee is Social Justice, whose goal is "to build a world where each person's inherent worth and dignity is affirmed."
Please join us!
If you think you might want to find out more and experience being part of our nurturing community; if you are looking for religious and personal growth that respects and champions freedom, tolerance and reason; if you believe in working together for the social good, then we invite you to attend our Sunday services, talk to us or contact our office for more information.
See also: