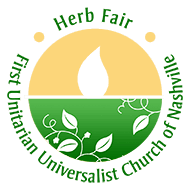 Times and topics
April 27
Saved by Spring
The Rev. Gail Seavey, the Rev. Jason Shelton and Marguerite Mills
Young and old alike are made whole after a cold winter by celebrating spring-time rituals. We participate with the rest of nature as we nurture growing seedlings, feel awed by the beauty of blooming flowers, create colorful garlands and joyfully weave ourselves into the great web by dancing around the May Pole.
May 4
Good News/Right Times for Religious Liberals: An Exploration of Brokenness and Healing/Hope
Jim Key and the Rev. Sarah Lammert
Jim Key is the UUA Moderator, having served our faith as a lay leader from the ground up by helping to start a new congregation in Beaufort, South Carolina, serving as its president for five years, and also serving as Vice President and then President of the Thomas Jefferson/Southeast District. He facilitated the organizing meeting for the Southern Region of the UUA and served on several committees at the UUA, which included chairing the UUA Audit Committee.

The Rev. Sarah Lammert is a graduate of Starr King School for the Ministry and currently serves as the Director of Ministries and Faith Development at the UUA. She served congregations as a settled minister in Ogden, Utah and Ridgewood, New Jersey
May 11
Reproductive Justice
The Rev. Gail Seavey, Kat Myers and Holly Mueller
Kat and Holly are both pursuing their master's degree at Vanderbilt Divinity School. We will be exploring the moral dimensions of abortion and other reproductive issues from the point of view of our liberal tradition.
May 18
Religious Education Sunday
FUUN Children, Youth, Volunteers and Marguerite Mills, Director of Lifespan Religious Education
Join us and learn how to "do-re-mi" your way through the seven principles. Worship with us as we share with you what we have learned this year. This has included learning that asking questions is itself a Unitarian Universalist value, and that we must use the answers we find to grow into our own power and to navigate the ethical questions in our lives. We will also celebrate our graduating seniors, and we will lift up and honor our abundantly generous volunteers who make it all happen.
May 25
The Truth about Toxic Leadership
The Rev. Gail Seavey and Sandye Wallick
Sometimes people complain that Unitarian Universalists have a problem with authority. However, it may be necessary to question authority to discern toxic leaders, whether at home or school, in the military, or at work, temple, church or ashram.
June 1
A Celebration of Healthy Leadership
The Rev. Gail Seavey
Many of you have been creating models of healthy leadership. We will examine some of those positive ways to work together and get things done, as well as recognize the volunteers of this congregation.
Online Shopping to Support Our Church

Items of interest from the staff, committees and the board